Kerala Education department will accept applications for revaluation, photocopy and scrutiny of answer sheets of Kerala sslc exam 16.06.2022 onwards. Here are the things to do for applying for revaluation of SSLC result 2022
Applying for SSLC 2020 revaluation ? detailed instructions
Online applications can be submitted from

16.06.2022 to 21.06.2021

4.00 PM
The application for revaluation will be in online mode. Registration is available at https://sslcexam.kerala.gov.in/revaluation.php
While entering the register number and date of birth, your current grades will be displayed along with personal details.
Select options of Revaluation/ Photocopy/ Scrutiny against each paper.
Recheck the details, and press EDIT if you need corrections.
After re-checking and editing, you will be presented with option to confirm

Revaluation, photocopy & scrutiny are not applicable to IT paper.

No need to apply for scrutiny of a paper if applying for revaluation.
The fees for revaluation, photocopy & scrutiny are rupees 400, 200 & 50 respectively per paper, if you get a better grade in revaluation, the fee will be refunded.
The printout of the application along with fee should be submitted to the headmaster of the examination centre where the candidate appeared for exam.
Only fee paid & HM confirmed applications will be considered for revaluation / photocopy / scrutiny.
For more details, download the revaluation circular2022 by education department.
The revaluation Application window at iExams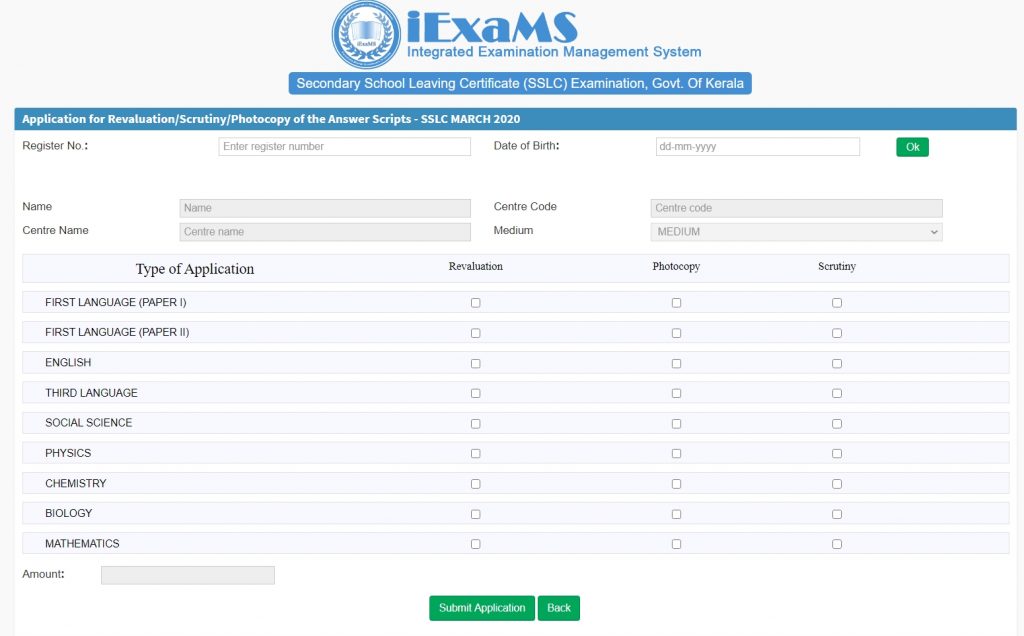 You can access the window at https://sslcexam.kerala.gov.in/revaluation.php