Latest News: Kerala Government extended the last date  for submitting the HSCAP 2018 application to help CBSE students in the state
Revised Schedule for HSCAP Admissions 2018
Last date of application: 30.05.2018
Trial allotment: 05.06.2018
First Allotment: 12.06.2018
Main Allotment ends on: 20.06.2018
Classes starts on 21.06.2018
Read the following directions before submitting your Plus One Single window applications for HSE Admissions.
All SSLC passed students together with the CBSE syllabus students must submit applications for plus one admissions in Kerala Government/ Aided Higher Secondary schools. As in the previous years, the admission process is carried out in a single window system.
Students want to apply for admissions need to submit an

online application

through  http://www.hscap.kerala.gov.in
Only one application is required for plus one admissions in  all the schools in a district. If you are looking for admissions in schools in more than one district a separate application to each district has to be given.
For submitting the online application, the student required to have the SSLC mark list print out and Aadhaar card.
You have to select option for school and course with due consideration of subject combinations available in the school, the last year plus two result of the particular school, distance to the school from your residence and transportation facilities available.
Bonus points for club activities, participation in Arts and Sports festivals, SPC, swimming, NCC, Rajya Puraskar etc should be entered with utmost care, because all this will be considered while calculating your final rank
The printout of the application form together with self attested copies of required documents like SSLC copy, Aadhaar, documents supporting the bonus points along with the application fee should be submitted to the nearest Government or Aided school.
The application fee is 25 rupees.
Keep the slip which you get as a receipt of application, because you cannot further make any corrections or to check allotment if you lose that slip. Better to take the photograph of that slip and keep it in the mobile phone for ready reference
CBSE students Must submit copies of documents showing cast, community and address together with a declaration of the parent in the given format in the prospectus.

Applications will be accepted from May 8th to May 30th.

Trial allotment will be available on June 06th
First and second allotment will be available on June 12th respectively
Plus one classes will commence from June 21 onwards.
HSCAP 2018 Website Application Procedure:
Read the prospectus first.. to download the prospectus visit http://www.hscap.kerala.gov.in Click on Academics tab and select admissions link download Plus One Admission Notification 2018-19 pdf
When you are ready to submit application with all the required documents, click on the online application form link and fill the form with required details & documents and pay the fees. After submitting the application, you will get a receipt. Always remember to take a printout of the application form also for further reference. 
Frequently Asked Questions on HSCAP 2018
What is Ekajalakam / Single Window System?
Ekajalakam is the Centralised and single window admission and allotment process of Kerala Government and Aided Higher Secondary Schools for plus one admissions. In this system the student need to submit only one application for admission to all the schools in one district.
What is the method of submitting Plus one application ?
In this single window system of plus one admissions, candidates need to submit online application in HSCAP website, In the online application process, you need to submit the SSLC exam grades, Date of Birth, Details of Bonus Points for club activities etc and all other details to secure the grace marks, if the candidate is eligible for it. Read Manual for HSCAP 2018 Admissions How to Submit Plus One Application for more details
Can I submit the application from my home computer ?
Yes, you can submit the application from any computer which is having an Internet connection, You can submit application through Akshaya Centres or can apply through the admission facilitation centres at the Higher Secondary schools.
Can I apply through mobile phones ?
Yes, you can. But we recommend to use computers/ laptops, since the mobile phone screen is much smaller, you may miss out some details that need to be filled.
Do I need to submit the offline application form?
Yes, after the online submission of the application, you can generate a print out of the application, this print out need to be submitted at the nearby Government/ Aided Higher Secondary Schools in the concerned district for further verification.
How much is the application fee ?
Rs. 25
How can I pay the fees ? Do I need to pay it online ?
No, you can hand it over to the school authorities where you submit your application.
Can I apply in more than one district in HSCAP?
Yes, you can. In that case, a separate application need to be submitted for each district.
Is one application sufficient for all schools in my district ?
Yes
Do I personally handover the application to the school?
No, you can submit it through another person or you can send it by post to one of the selected schools detailed below. In that case you can attach a DD for the application fee. Please note: You need to take the DD before starting the online application entry
List of prescribed Schools to which Printout of Applications & Demand Draft to be send by online Applicant's Out of State/ District
| | |
| --- | --- |
| | |
| | GOVT GIRLS HSS,PATTOM,THIRUVANANTHAPURAM,PIN:695004 |
| | GOVERNMENT HSS,VALLIKEEZHU,KOLLAM,PIN:691003 |
| | CATHOLICATE HSS,MAKKAMKUNU,PATHANAMTHITTA, PIN:689645 |
| | GOVERNMENT MODEL BOYS HSS,HARIPAD,ALAPUZHA,PIN:690514 |
| | ITHITHANAM HSS,MALAKUNNAM,CHANGANACHERRY,KOTTAYAM PIN:686535 |
| | GOVERNMENT HSS,VELLATHOOVAL,IDUKKI,PIN:685563 |
| | SNMHSS MOOTHAKUNNAM,ERANAKULAM,PIN:683516 |
| | MASM VHSS,VENMANAD,THRISSUR,PIN:680507 |
| | GOVERNMENT HSS,KARIMBA,PALAKKAD,PIN: 678597 |
| | PERAMBRA HSS,PERAMBRA,KOZHIKKODE,PIN:673525 |
| | GOVERNMENT HSS,CHERIYAMUNDAM,MALAPPURAM,PIN:676103 |
| | GOVERNMENT HSS VYTHIRI,VYTHIRI,WAYANAD,PIN:673576 |
| | GOVERNMENT WELFARE HSS, CHERUKUNNU, KANNUR,PIN:670301 |
| | GOVERMENT HSS,KAMBALLUR,KASARGODE,PIN:670511 |
Can I correct the mistakes in online application later?
Yes, you can correct the mistakes even after submitting the application. If you find any serious error in the application, you can correct it online. In that case, you need to submit the changes in writing to the principal of the school, where you had submitted your original application.
What is School Code in the Application ?
For admission purpose, every higher secondary  school is assigned with a code. The school code for your school can be had from the annexure of the prospectus.
What is subject combination code ?
HSE subjects are generally arranged in 3 groups viz- Science, Humanities and Commerce. In each group, many subject combinations are available for the candidate to choose from. The subject combinations, their codes and weightage of SSLC marks can be had from HSCAP Subject Combinations and Codes
How to select the best school?
It is upto you.. A lot of factors need to be considered before selecting your higher secondary school. You need to think about the available subject combinations, your chance of getting admission based on last years admission cut off marks, distance to the school, transportation facilities available etc. It is better to prepare a  trial list of options before selecting it online. You can use this form to prepare a trial list of options Worksheet-Option sample file
Am I eligible for bonus points?
Check the file to know whether you are eligible for bonus points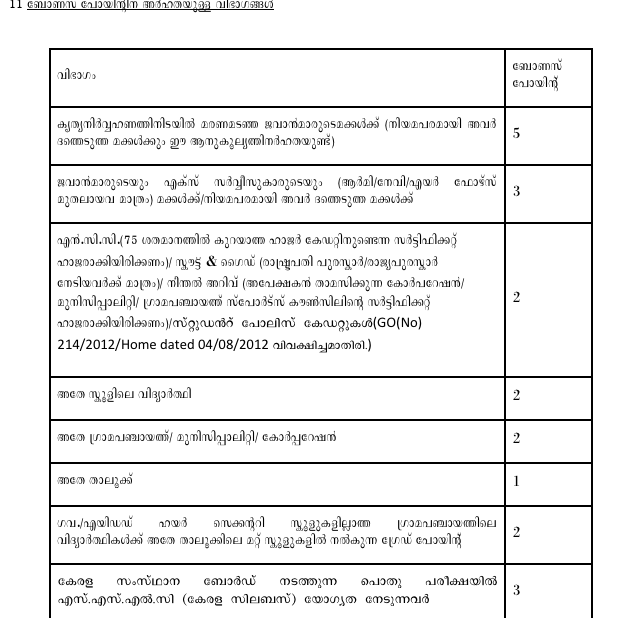 Useful Links for HSCAP 2018