Kerala first term exam question papers for standard 8 are available at the links below for free download and practice. You can download all subject question papers of previous year Kerala first term examination in English and Malayalam Medium from this page.
STD 8 Term 1 exam timetable 2022
The First Term Exam session of 2022 is scheduled to commence on 24th August 2022 and end on 02nd September 2022. The education department announced the detailed timetable. You can get the latest schedule from below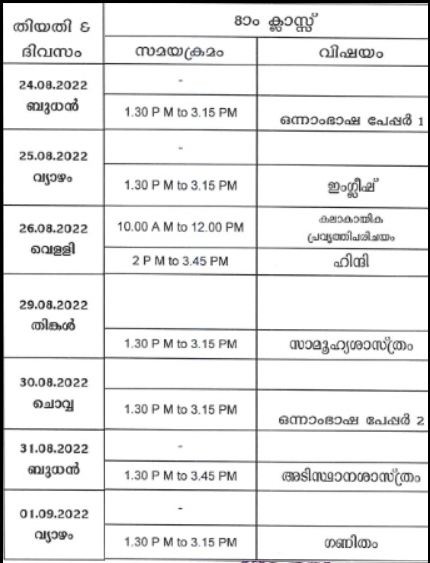 For latest updates visit the education department portal.
How Much to study for Onam Exam 2022?- Scheme of Work
The following chapters and portions are included in the first term syllabus
Previous Year First Term Question Papers of STD 8- All subjects
Last 5 year First Term question papers and answer keys for all subjects in STD IX can be downloaded from the links below. Malayalam and English Medium papers and keys are available for download.
8th Last 5 Year First Terminal Exam Question Papers
Last 5 year question papers of STD IX Onam exam in Yearwise arrangement